Owner Review: PrimaLuna EVO 100 Tube Phono Preamplifier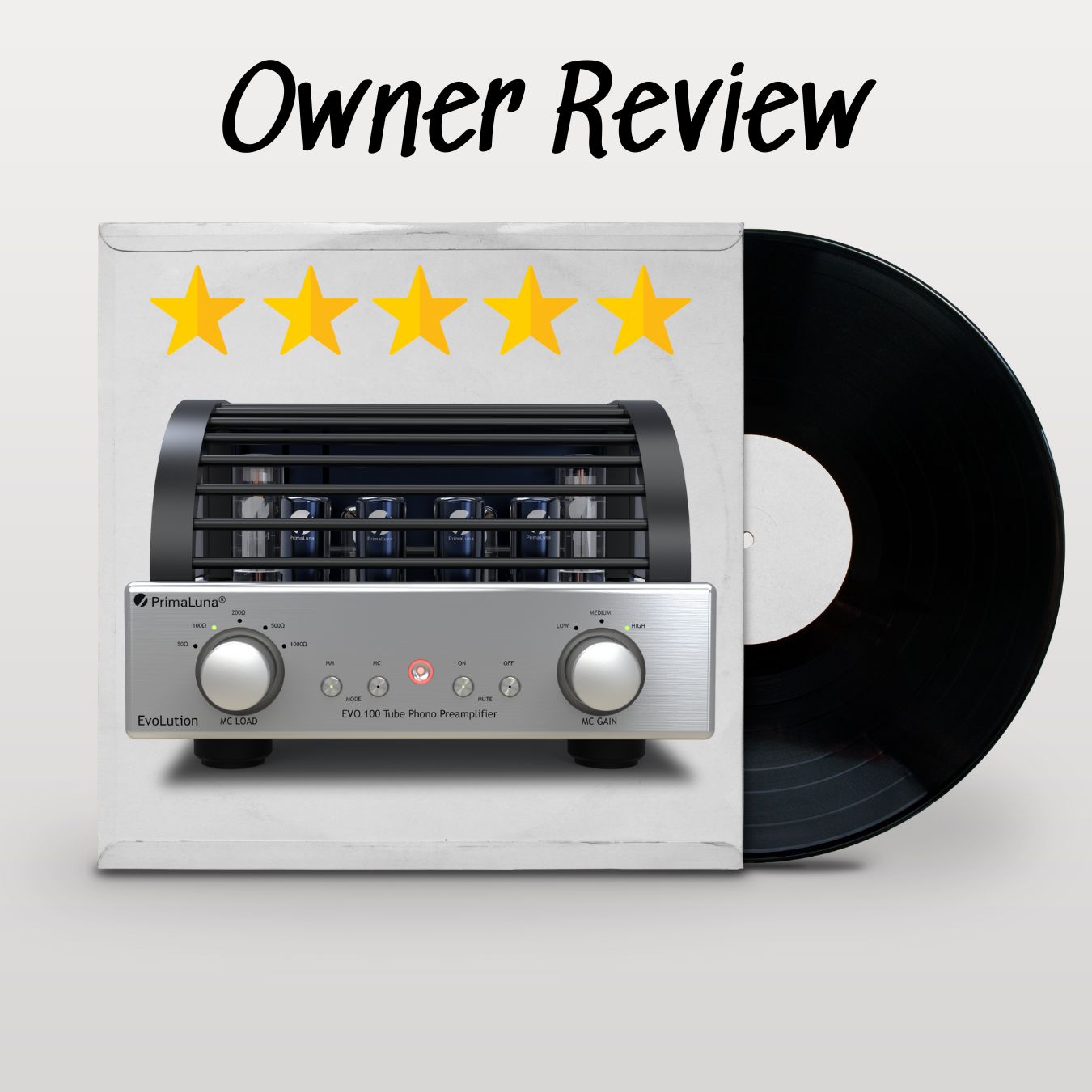 We are immensely proud to see people responding so enthusiastically to our PrimaLuna EVO 100 Tube Phono Preamplifier! Upscale Audio in the USA recently received a lovely message from Bob Gaines about his PrimaLuna EVO 100 Tube Phono Preamplifier!
I am in awe. I've had this unit for two weeks now and I'm still having difficulty picking my jaw up off the floor. This is by far the most impactful step I've taken in music listening – I don't think it would be an exaggeration to call it transformative. Every record I put on is a surprise, no matter whether it is new or one I've been listening to since I was sixteen. And it just doesn't stop. The sound is more immersive and engaging than any result I've had with anything I've tried in my system so far. It's as if the PrimaLuna takes the signal from the cartridge and breathes life into it, inflating and expanding it across the whole dynamic range – revealing hidden texture and space within the music. The sound is beefy yet expansive with a wide open soundstage that is full of air, nuance, separation and delicacy. The PrimaLuna Evo 100 Phonostage is like a bull in ballet flats. The first thing I noticed was the bass. It is rich and tight, controlled with a good grip, great attack and wonderful fullness but not at all boomy. I've never heard bass come alive like this from records before. To provide some context, I was planning on adding subs at some point in the future, but I see now there is no need whatsoever. My Tannoy 10″ dual concentrics are not at all lacking in bass to my ears when powered by this kind of amplification. I've never heard them sound so full or so layered. The treble is extended in the best possible way, not at all harsh, but not too smooth, either. The soundstage is far more expansive than I get from my digital sources, and nuances in the highs are spine tingling. The midrange is glorious and really holds it all together. It is smooth but incredibly fast and has the agility to stun with that surprise factor that instantly makes you look up from whatever it is that you are doing and smile. The imaging is spot on and the speed is breathtaking – a real surprise for an all-tube phonostage and a great match for a fast-tracking MC cartridge. I have simply never heard such rich detail, three-dimensionality and depth from my system before, or for that matter, from records. This phonostage is the real deal. Watch the video to see what's going on under the hood and to get a sense of the novelty of the design. It is a tour de force. Listening in MC mode, the stock PrimaLuna 6922s are nice and quiet. For fun I've tried swapping some other tubes into the MC stage but so far the PL tubes are the quietest. They are accessed through a back panel with 4 thumbscrews and it is very easy to access and remove/install them, even though they are shielded in their own compartment. I really appreciate the tube jackets to help guard against microphony – one of the many tricks that beat that noise floor down so you hear wonderfully quiet backgrounds in your music. I love having all the controls on the front panel instead of using dip switches that are hard to access and, thus, difficult to experiment with. I was also very pleasantly surprised that the Evo 100 Phonostage "remembers" the settings from last time each time you power it up, unlike the input selector knob on my PrimaLuna integrated amp. This product is incredibly well thought through in every aspect. Huge thanks to Kat on this one. I was looking to upgrade my phonostage to something quieter and she convinced me that this would be worth the wait. It was nearly 8 months, and OH MAN, was she right! Kat also took a LOT of extra effort in answering my questions- even relaying them directly to PrimaLuna for me so that I could feel secure in my decision and just nerd out on the details. Since it has arrived, she and Sean-Paul have been absolutely fantastic in helping me make all the little tweaks to get it exactly where I want it to be. Upscale's Analog Department customer service is world class. You always get a straight answer, the best advice, and generally learn something cool. Thank you.
Bob Gaines
Thank you very much Bob Gaines for your support and kind words! Highly appreciated!
Learn more about our EVO 100 Tube Phono Preamplifier through the link below.